Today was a day of failures... More failures... Triumphs from the failure of being a moron...
Where to begin. Dropped my phone in the store. Shattered the living daylights out of the stone horse cell phone strap that was on there. Phone was fine though. >.> Then later dropped the phone down our front steps. Phone's still fine. Wee bit scratched. But it was a wee bit scratched before today anyway because I tend to do that. Sigh. Phone of nine lives. ...I have other phone straps (heather, shhh)...and more horse ones. So the world is not all lost.
The bank won't change back my currency because I don't have big enough bills...despite the fact that what I have is what
they gave me
. Will have to check out banks to do that for me. And it took 10 minutes to fax paperwork as I'm like, all I need is to do is get to the grocery store...
Oh, I got a magnet... Where is that magnet. It's a very...me...magnet. XD From the artist's site (picture links to the store):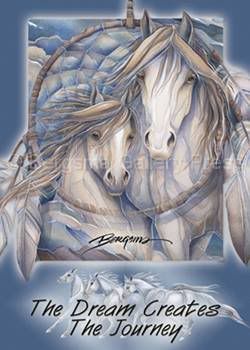 "The Dream Creates the Journey." <3 I love her art...It's so simple and clean, pretty...fanciful even. It's just...gorgeous. <3
And...I had been whining and moaning about my remote not working. ...Well. I got a lap protector because of the computer's heat... And since I bought that, I hadn't really used the remote. Ummmm. The infrared receiver is in the front of the computer...where the wrist rest of the lap protector blocks it. So. It works great! As long as I'm not a moron. Good thing I didn't take it to the store to be fixed. :|